Saint Francis Church of Assisi Anglican Church
Estes Park, Colorado
About our Estes Park Church
Here in Estes Park we are very blessed to have such a beautiful setting I which to worship together. Our friendly congregation welcomes you with open arms and invites you to join us during our weekly services.
Our St. Francis of Assisi Church is built after the likeness and style of St. Francis' own chapel, St. Mary of the Angels in Italy. We are located in beautiful Little Valley, where the splendor of creation is visible all around. Enjoy the spectacular mountain views, but watch out for the herds of elk and deer on the roads!
Church services are held every Sunday. Morning Prayer is at 9 a.m. followed by Holy Communion at 9:30 a.m. There is fellowship with refreshments after Holy Communion. Please see our events page for more information. While you are here, take a stroll on our version of the "Via Dolorossa" and see the Stations of the Cross, a trail that has been described as "The Most Beautiful ¼ Mile" on earth!
About our Priest
Father Dennis Ryan came to Estes Park in the fall of 2019. Raised in the Episcopal Church, Father Ryan was fortunate in 2000 to be able to pursue his faith more deeply. In 2009, he began attending the Anglican Church. Fostered by a loving atmosphere and Biblically based worship, he began a period of discernment and in 2015 enrolled in Logos House of Theological Studies, a distance learning seminary. He was ordained to the Deaconate in April of 2019 and to the Priesthood in October of 2019
Prior to entering the ministry, he served for 30 years on active duty in the United States Navy. A graduate of the U.S. Naval Academy, in 1970, and the Naval Postgraduate School, in 1981, he had 8 assignments at sea and 5 assignments ashore both in the United States and overseas. After retiring from the Navy, he spent 18 years in science and technology administration.
About the Anglican Church Catholic History and Tradition
The Parish of Saint Francis is rich in catholic tradition and evangelical witness. The Book of Common Prayer (1928) and the Anglican Missal are used at all services of public worship. St. Francis' Choir accents the majesty of this ancient catholic liturgy. The use of plainsong (chant) and traditional sacred choral hymnody make the Eucharist a moving, reverential, and uplifting experience for all who attend.
The Anglican Church in America is the American Province of the Traditional Anglican Church. "Anglican" simply means "English" in Latin. Our branch of the Holy Catholic Church is as old as the Roman Catholic branch and nearly as old as the eastern catholic, or Orthodox branch of the universal Church. Legend suggests that Joseph of Arimathea brought the Christian Faith to England and that Aristobulus was consecrated the first Anglican bishop by Saint Paul before St. Peter reached Rome.
Historic documents list three Anglican bishops as in attendance at the Council of Nicea in 325.
In 596 the Bishop of Rome, Gregory the Great, saw fair-haired, blue-eyed slaves on display in a Roman market. He asked where they were from, and when he was told about the British Isles, he instructed St. Augustine of Canterbury to travel to England to bring the Christian Faith. Imagine the surprise of St. Augustine when he arrived to discover the Anglican Church firmly established with cathedrals, monasteries, parish churches, and a valid apostolic succession of Bishops, Priests, and Deacons.
Our jurisdiction was formed in 1977 by Anglican bishops, clergy, and faithful to preserve traditional Anglo-Catholic doctrine and forms of worship in the face of rampant changes in liturgy, morality, and Order, within the Church.
The Traditional Anglican Church has dioceses and parishes in Canada, the United States, Ireland, Zambia, South Africa, India, Latin America, the Torres Straits and Australia. By preserving the faith once delivered to our fathers, the jurisdiction has ensured the continuation of the Anglican expression of the Catholic Faith.
Who was St. Francis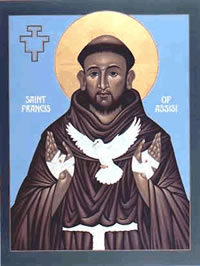 Francis of Assisi was a poor little man who astounded and inspired the Church by taking the gospel literally not in a narrow fundamentalist sense, but by actually following all that Jesus said and did, joyfully, without limit and without a mite of self importance. Serious illness brought the young Francis to see the emptiness of his frolicking life as leader of Assisi's youth. Prayer lengthy and difficult led him to a self emptying like that of Christ, climaxed by embracing a leper he met on the road. It symbolized his complete obedience to what he had heard in prayer: "Francis! Everything you have loved and desired in the flesh it is your duty to despise and hate, if you wish to know my will. And when you have begun this, all that now seems sweet and lovely to you will become intolerable and bitter, but all that you used to avoid will turn itself to great sweetness and exceeding joy."
From the cross in the neglected field chapel of San Damiano, Christ told him, "Francis, go out and build up my house, for it is nearly falling down." Francis became the totally poor and humble workman. He must have suspected a deeper meaning to "build up my house." But he would have been content to be for the rest of his life the poor "nothing" man actually putting brick on brick in abandoned chapels. He gave up every material thing he had, piling even his clothes before his earthly father (who was demanding restitution for Francis' "gifts" to the poor) so that he would be totally free to say, "Our Father in heaven."
He was, for a time, considered to be a religious "nut," begging from door to door when he could not get money for his work, bringing sadness or disgust to the hearts of his former friends, ridicule from the unthinking. But genuineness will tell. A few people began to realize that this man was actually trying to be Christian. He really believed what Jesus said: "Announce the kingdom! Possess no gold or silver or copper in your purses, no travelling bag, no sandals, no staff" (see Luke 9:13).
Francis' first direction for his followers was a collection of texts from the Gospels. He had no idea of founding an order, but once it began he protected it and accepted all the legal structures needed to support it. His devotion and loyalty to the Church were absolute and highly exemplary at a time when various movements of reform tended to break the Church's unity.
He was torn between a life devoted entirely to prayer and a life of active preaching of the Good News. He decided in favor of the latter, but always returned to solitude when he could. He wanted to be a missionary in Syria or in Africa, but was prevented by shipwreck and illness in both cases. He did try to convert the sultan of Egypt during the Fifth Crusade.
During the last years of his relatively short life (he died at 44) he was half blind and seriously ill. Two years before his death, he received the stigmata, the real and painful wounds of Christ in his hands, feet and side. On his deathbed, he said over and over again the last addition to his Canticle of the Sun, "Be praised, O Lord, for our Sister Death." He sang Psalm 141, and at the end asked his superior to have his clothes removed when the last hour came and for permission to expire lying naked on the earth, in imitation of his Lord.